SSACC Evaluations
Thursday, February 4, 2021 by Alison Stevens | Uncategorized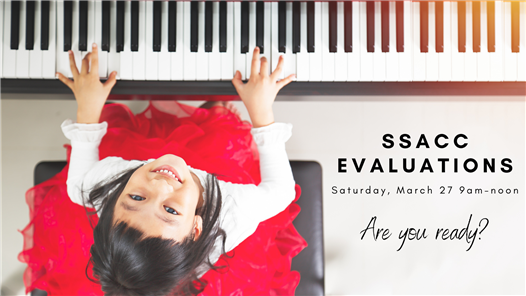 SSACC Evaluations open to students with six months or more of lessons
SSACC is a FREE opportunity this year!
Registration Deadline: Friday, February 26
SSACC stands for
Sight-reading, Scales, Arpeggios, Chords and Cadences
. Here's how SSACC works:
This years event will be virtual - from the comfort of your home
Students will be assigned a 15 minute time slow with another MAG teacher
Students will play the level appropriate Scales, Arpeggios, Cadences and Chords we have been working on all year in lessons
Students will sight read one piece of music
MAG Teacher will evaluate the student, and send the form to the parents wit valuable technic, skill and performance feedback
Register for SSACC through your student portal - go to the calendar and click on the March 27 event. You will be emailed a confirmation of your registration, and be contacted by your evaluator to set up your time and receive virtual instructions/information.
Feel free to call, text, email or talk to us at your child's lesson with questions!
See you at lessons!
Rich & Alison